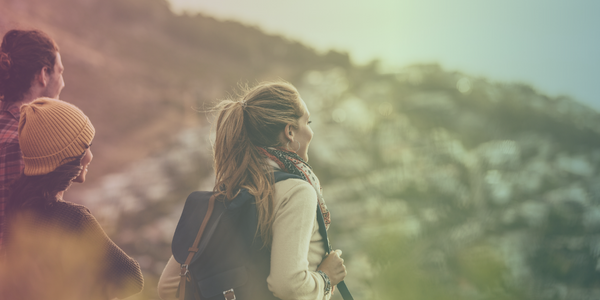 Here's something that will shock no one: Day-to-day life for women in business can be really tough. The expectations and pressures on women are high and there is never enough time or enough energy to juggle everything. As a result, women wind up getting stretched too thin. Overwhelm becomes burn out, and burn out is the #1 reason why women drop out of the workforce. This perpetuates the gender gap issue we have in American leadership.
The secret to unlocking higher levels of health and happiness is through a regular self-care practice that focuses on physical, mental and spiritual well-being. This is how we right-size the gender gap in leadership. This is how we show up as our best selves for the people that depend on us. And this is how we model by example what thriving, Healthy Women Leaders look like in action.
---
It was 2016 when I took my first steps as a true entrepreneur, leaving the perceived safety of my corporate career to build, from scratch, a software development start up. Though I had been in leadership for many years, this was my first exposure to having 100% accountability for the entire business. I quickly found myself at the mercy of a new level of ongoing pressure and anxiety.
As I struggled to maintain composure under the crushing weight of stress, I made it my mission to better understand why I was having such a rough time. As I started to subjectively examine this emotional experience, I uncovered that what I was going through was more common than I thought.
Unfortunately, there are some pretty grim statistics that affect women in leadership.
We don't see ourselves at the leadership level. In 2022, just 9% of all CEO positions in the Fortune 500 are filled by women. Women are scarcely represented in leadership and it gets worse the higher up the corporate ladder they climb. This translates to an increase in feelings of impostor syndrome when role models or mentors are not present.
We make less money doing the same job. Women make $0.83 to each dollar earned by a man. This discrepancy widens for mothers and women of color, further highlighting the feeling that we are somehow inferior.
We are more likely than our male counterparts to take pressure to heart. There is a higher likelihood of depression, anxiety, and mental fatigue among women leaders.
We have more on our plates. Women do 40% more of the unpaid work around the home. This includes visible (housework, childcare) and invisible (mental load) workloads.
As I began to understand that these outside influences were more out of my control than I thought, I realized that I needed to flex into the only thing that was within my control - myself.
It became clear that the only way to keep my business running properly (and maintain my sanity) was to fortify myself from the inside out so that I could better handle the pressures coming from the outside in.
To do that, I had to consciously stop allowing the busyness of daily life to impede my own well being. I had to flex HARD into self-care and adopt new practices to combat the distress I was feeling.  This was a critically important unlock for me, and I was inspired to share this revelation with others.
Healthy Women Leaders was founded in 2017 to provide inspiration and education for women in leadership to practice radical, whole-life self-care as a critical measure to thriving in a chaotic world.
---
Healthy Women Leaders holds the space to confront the issues that women in leadership face from multiple angles. Though we can't snap our fingers and solve these societal issues, we can educate and inspire women to focus on self-care, health, and personal well-being as a critical measure to withstand these stressors. We examine not only the issues that women in leadership face but more importantly, how they are able to combat these problems to shine, inspire, and motivate themselves, their teams, and their families on a daily basis.
We help women identify their particular definition of "healthy".
We learn to truly know ourselves: how to read the signs of when we need to step back, and what we each can do to recharge.
We provide a supportive community for women, across all stages and walks of life, who identify as leaders. Leaders of companies, big and small. Leaders of teams. Leaders of families. Leaders in life.
Our mission is to come together as a collective group to lift one another up, and work toward normalizing powerful, passionate, Healthy Women Leaders.
If this sounds familiar, or triggering, or like it makes you want to go out and change the world, let us know. We feel it, too.
---
Healthy Women Leaders Offerings  
You can engage with Healthy Women Leaders in the following ways:
Schedule 1:1 Coaching. Are you looking to chat on a one-to-one basis to dive deeper into your personal story? I would love to speak with you. It is my personal mission to empower women to take the reins as the creator of their best life.
Book me to speak at your event. I have a proven track record of bringing the energy, authenticity, camaraderie and inspiration that can fuel women to start making lasting, positive change.
Join the conversation in our LinkedIn group. Looking for your healthy-living tribe? Join our online collective of women leaders who unapologetically focus on their own well-being and develop their personal power.
Get the Newsletter. Use the SUBSCRIBE button at the top or bottom right of this page to receive our monthly-ish newsletter. We will start sending you inspirational and education info on all things health and well-being.
Be featured in our video or blog series. Have you unlocked a health or wellness-focused truth that should be shared with other people? We want to hear from you. Contact us for consideration.
---
Got Something Else In Mind?
Well , we'd love to hear from you! If none of the standard ways of engaging are right for you, please feel free to reach out. We are always open to discussing new ideas.