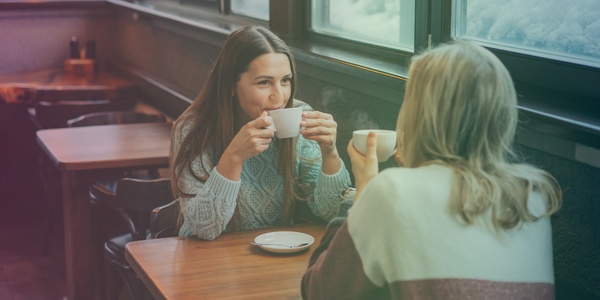 Are you looking to chat on a one-to-one basis? I'd love to join you on a journey into YOUR story. What's working, what's not, and where you want to be. I will empower you to take the reins as the creator of your life. You can change every single one of your "I wish I could ____" into "I'm so thankful for ____". There are no limits in this life, ladies.
I offer 1:1 coaching services for women of all ages in all aspects of whole-life health, and wellness. My mission is to inspire women to develop their personal power, overcome any internal blockers, and become goal-oriented, thriving wonder women.
We will focus on the critical importance of self-care and cover a range of topics, including physical, emotional, and spiritual well-being, personal growth, and the development of a positive mindset.
Coaching Packages​
Singular Sessions​
Lets get to it, girl. In our initial session, I want to hear about YOU. We will dive deep into the magic and mess that is your perfectly imperfect life. We will look at what you are great at and what you want to be great at.
1:1 Session (60-minutes): $225/session
Multi-Session Packages
Coaching packages are for women who are committed to creating positive, lasting change in their lives. Together we will identify and harness your personal strengths and abilities to achieve personal growth, increase your self-confidence, and set you on the path towards achieving your biggest goals. We will work on identifying your limiting beliefs and behaviors, developing positive self-talk and reframe negative thought patterns. We will explore your mission and purpose. You will be supported, empowered and inspire to take your life by its horns and make it into whatever you want.
Sessions will be scheduled at your own pace, when it works best for you. All sessions last 60 minutes and will be held virtually.
4-Session Package: $880 or $220/session
6-Session Package: $1,290 or $215/session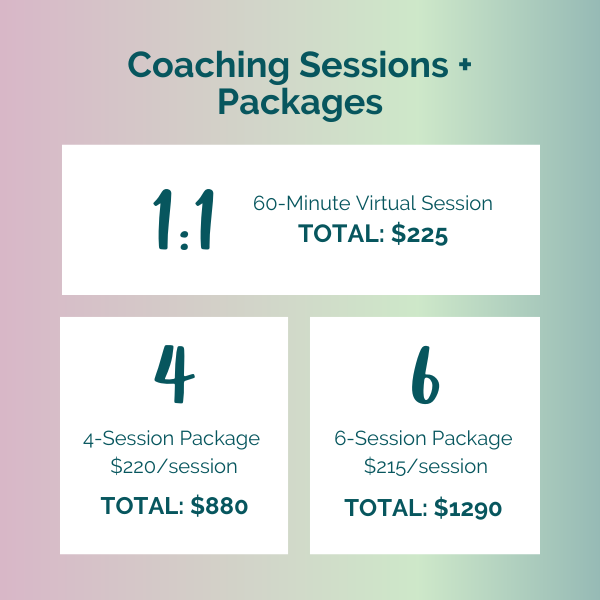 Ready to talk?
Contact me
to schedule a (free) 30-minute chat to see if we are a good fit for one another. I'm excited to hear from you!